Hydro Screw Press
Glanua's Screw Press range of sludge dewatering systems are some of the most efficient in the world, delivering energy savings of up to 80% against other dewatering technologies such as centrifuge and belt presses. Glanua design to site specific conditions and provide support in equipment selection, installation, commissioning and optimisation.
The Hydro Screw Press System consists of flocculation tank upstream of the screw press dewatering unit. Fabricated from high grade stainless steel 304 (316 available on request) this upward flow mechanical flocculation tank provides contact time for development of a liquid-solid separation and a strong floc formation. As part of package systems, Glanua also offer Polymer Preparation and batching systems which complete automated batching and dosing of dilute Polymer to the Screw Press flocculation tank.
From the flocculation tank, the flocculated sludge gravitates to the screw press dewatering unit. Depending on the site requirements and model this can be a single or double screw arrangement. The screw press is mounted on a pitch to promote free draining of supernatant from the dewatering rings to the dewatering collection trough below. Hydro's innovative self-cleaning mechanism consists of a set of oscillating rings attached to the screw press main drive motor, which provide continuous self-cleaning of the system.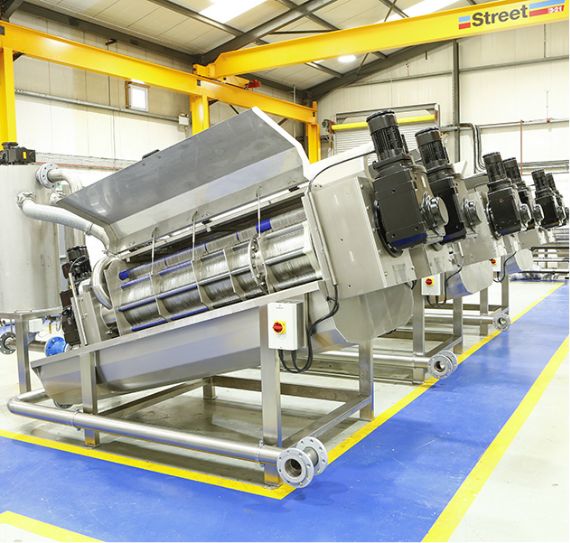 Benefits of the Hydro Screw Press
Low Maintenance & Longevity
Hydro Screw Presses are designed with low maintenance and low operator intervention in mind. The units are constructed from high grade stainless steel 304 (316 available on request) and operate at slow speeds via gear reduction motors. The built-in self- cleaning mechanism and simple liquid/solid separation technology means that operator supervision and intervention are greatly reduced.
Low Wash Water Usage
Glanua's innovative self- cleaning oscillating plate technology means that continuous automated wash water cleaning is not required. Although period machine washdowns are recommended, wash water usage of the Hydro Screw Press is significantly less than other dewatering technologies on the market.
Energy Efficiency
Compared to alternative dewatering technologies on the market, the Screw Press offers superior dewatering efficiency in terms of energy usage, making it one of the most sustainable dewatering solutions on the market.
Low Odour Generation
The Hydro Screw Press is an enclosed unit with surrounding hoods and access points. This reduces the odours
emitted from the unit. Odour extraction connection point(s) can also be fitted to the units on request.
Ease of Operation
The simple mechanical principles of the Hydro Screw Press mean that the system is largely autonomous. The system is designed to operate 24 hours per day in a non-supervised capacity, meaning that capital investment on infrastructure can be reduced along with availing of cheaper off-peak energy rates.
Low Noise & Vibration Emissions
The Hydro Screw Press utilises speed reduction gearbox units to generate the mechanical dewatering forces within the Screw Press. For this reason, the system operates at a greatly reduced noise emission value of 55 dBA @ 1m and low levels of vibration.
Skid Mounted & Modular
The CE marked Hydro screw press is fabricated off-site in a dedicated quality- controlled environment. The units are modular and are skid mounted allowing for easy transport, fast installation on-site and ease in expandability.
Polymer Usage
Polymer usage is consistent with other typical dewatering technologies ensuring an acceptable level of flocculation to achieve adequate solid/liquid separation.
Operating Efficiencies in Comparison to Alternative Dewatering Technologies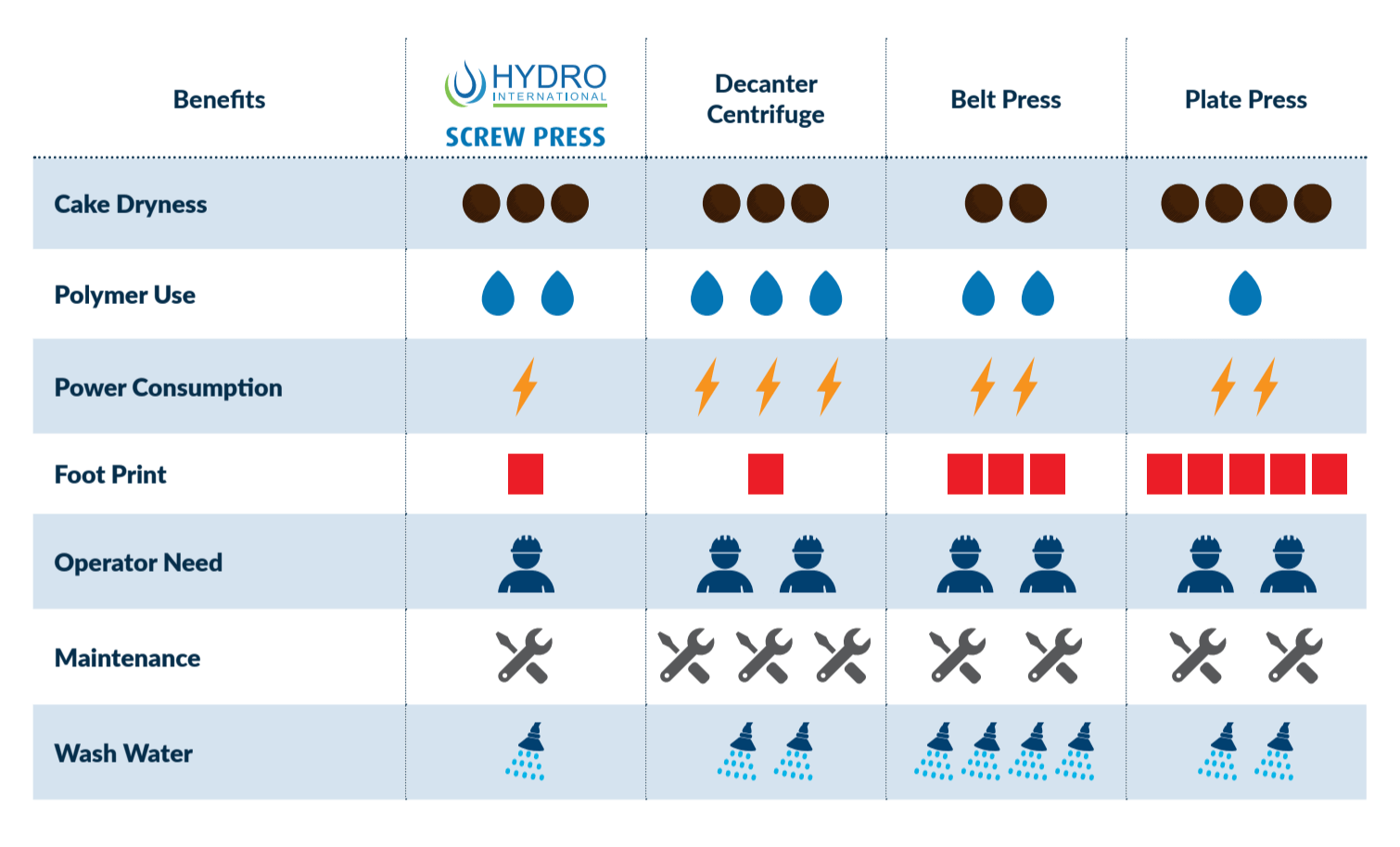 Typical Installations
The Hydro Screw Press can be offered in a range of installation configurations depending on site requirements and client preferences. We will offer a consultation service to find a solution which best fits your needs. Glanua also provide turnkey solutions in the design and installation of dewatering system integration.
Typical installation arrangements include:
High level platform discharging into a skip or trailer.
Ground level solution discharging into a cake auger or cake pump.
Containerised solution for semi-permanent mobile installations.
Trailer mounted solutions for mobile dewatering systems.
Advantages & Benefits
Typical dewatering results of 20% DS
Solids recovery of up to 95%
Sustainable dewatering
Operational efficiencies
Reduced operator requirement
Sludge thickening
Energy efficient
Low maintenance
Low odour
Low noise
Additional Services Available
Technical support Installation & setup
Maintenance & servicing
Operation
Optimisation
Polymer analysis & selection
Application support
Automation integration
Model Selection & Technical Information:
| | Applicable Units | Hydro Single Screw Press SP1-200 | Hydro Single Screw Press SP1-400 | Hydro Single Screw Press SP2-400 |
| --- | --- | --- | --- | --- |
| Flow Rate | m3/hr | 1 ~ 2.5 | 2.5 ~ 5 | 5 ~ 10 |
| Screw Press Dry Weight | kg | 230 | 1,075 | 2,150 |
| Typical Sludge Feed Concentration | % D.S. | 1 ~ 5% | 1 ~ 5% | 1 ~ 5% |
| Typical Dewatering Results | % D.S. | 20% +/- 5% | 20% +/- 5% | 20% +/- 5% |
| Typical Polymer Consumption | Kg A.P./T D.S. | 4 ~ 10 | 4 ~ 10 | 4 ~ 10 |
| Solids Recovery Capture Rate | % | 90% +/- 5% | 90% +/- 5% | 90% +/- 5% |
| Typical Daily Run Time | Hrs / Day | 8 ~ 24 | 8 ~ 24 | 8 ~ 24 |
| Solids Dewatering Capacity | kg D.S. / Hr | 10 ~ 125 | 10 ~ 125 | 10 ~ 125 |
| Maximum Daily Through-put | kg D.S. / Day | 240 ~ 3,000 | 600 ~ 6,000 | 1,200 ~ 12,000 |
| Main Screw(s) Rated Power | kW | 0.75*1=0.75 | 0.75*2=1.5 | 0.75*4=3.0 |
| Typical Dewatering System Energy Usage | kW / Hr | 0.38 ~ 0.75 | 0.76 ~ 1.5 | 1.52 ~ 3.0 |